Monthly Reading Roundup: May
Didn't get to read quite as much this month, but with my exams and other assignments it's been a stressful time. Thankfully I've finished my second year of university, so this summer I'm looking forward to actually having the time to read for fun, as well as starting reading for my dissertation on Anne Bronte.
Brontesaurus: An A to Z of Charlotte, Emily and Anne Bronte by John Sutherland
During revision I've been reading shorter books, and after finishing off April with the brilliant Anne Bronte book by Samantha Ellis, I continued the Bronte trend with Brontesaurus: An A to Z of Charlotte, Emily and Anne Bronte by John Sutherland. Sutherland uses the alphabet to examine various myths and stories about the Bronte family, from Branwell's opium use, and the origin of the word 'Wuthering'. It's probably best to read this book if you already have an interest in any or all of the Bronte's, and not only adds humour to the questions surrounding their lives, but discusses them in an engaging way. Admittedly I think I rushed through the book too quickly, and for me personally I think I would have appreciated the book even more had I read through it in small chunks, as going through it all so quickly made parts of it harder to get through.
Rating: 3.5/5
Wide Sargasso Sea by Jean Rhys
While revising I managed to read Jean Rhys's Wide Sargasso Sea, a short but incredibly powerful novel that has been on my to-read list for ages. The novel serves a prequel to Charlotte Bronte's Jane Eyre, following Mr Rochester's doomed first wife Bertha Mason. To readers of Jane Eyre, we know her as the wife Rochester was deceived into marrying, who he secretly harboured and locked away in Thornfield Hall, due to her madness and violent behaviour. Jean Rhys takes the character of Bertha, whose real name in the novel is Antoinette Conway and looks at her life leading up to her marriage and what comes to her becoming the 'mad wife' that Charlotte portrays her as.
Antoinette is living with her family in Jamaica when the novel begins, and without trying to give too much of the plot away, her mother's madness and events lead to the marriage of Antoinette and Rochester, (who is never actually named in the novel). Though reluctant to marry him, the marriage starts off well before Rochester is poisoned with tales of her mother's madness and other stories about Antoinette's family that shift his behaviour to her. It's horrible to see Rochester act so cruelly to his wife, going so far as to strip her identity away from her, refusing to use her real name, calling Antoinette Bertha instead. Rhys's structure of setting the novel in three parts allows the novel to focus on the stages in Antoinette's life, the second section being narrated by Rochester as well as he deals with his marriage, allowing the reader to have a closer understanding of his actions, and pity Antoinette even more.
Even if you haven't read Jane Eyre this is a worthwhile book to read, and not only shines a light on the dismissed character of Jane Eyre but gives her a powerful voice, Antoinette's struggle to find her identity in society while dealing with an emotionally abusive husband in Rochester being heart-breaking to read, as well as casting a darker shadow over the character of Rochester and Jane Eyre. The novel illuminates the power men had in marriage, and how easy it was for women to be abused and dismissed, and have their own narratives twisted entirely.
Rating:4/5
The Power by Naomi Alderman
The best book of the month without a doubt was The Power by Naomi Alderman. On the shortlist for the years Bailey's Women's Prize for Fiction, it was the best book to read after I finished my exams, and reminded me of how much I love getting absorbed in fiction, especially with books that are so hard to put down. The novel looks at a society where women gain electric powers, the ability to produce electric jolts through their hands. It begins in teenage girls, who pass it on to other women as it continues. Female babies are now born with the power, and older women can be passed on the power from those who have it. Men are now the ones who are afraid of women, who can't go out late at night by themselves. Attempts to dismiss this power are soon proven wrong, as women all over the world access this ability and began to change society forever.
The novel follows four characters, Roxy the daughter of a crime boss in London who manages to have the most powerful abilities, Allie a foster child who uses her power to become a religious figure of a faith distanced from men, Margot, an older woman in America whose power enables her to successfully further her political career, and then Tunde, a young man who is amazed by this power and becomes key journalist in recording and charting the events as they unfold around the world.
It's hard to read this novel and not feel powerful yourself, especially in the first half. Alderman so believably portrays this situation in today's modern society, and the different characters allow her to go down various avenues in examining how the women use their power, and how the rest of the world reacts to it. While initially the power is liberating, it soon takes a darker turn for all of the characters, power being abused in horrifying ways that shifted my initial perceptions of the novel.
This is a truly worthwhile read, and I would strongly recommend it especially if you like work by Margaret Atwood.
Rating: 5/5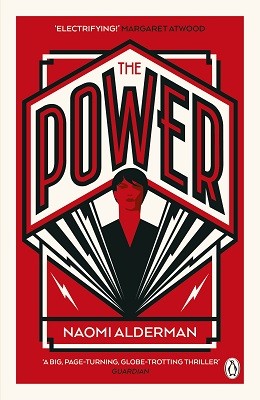 Hoping to have my post on my recent visit to the Bronte Parsonage up next week!
Thanks,
Sarah